Description
Purity – Synergy – Integrity – Results  —  ROOT Cause Supplements© —  Lower Inflammation & Optimize The Immune System
Most Therapeutic Curcumin / Turmeric Capsule in the USA, based on clinical results and objective testing. Pure, High-Grade, Synergistic Formula with superior Absorption and maximal anti-oxidant benefits, with the addition of Quercetin, Resveratrol & Vitamin C (Acerola Cherry). Keeping in mind, the main components of the capsule, Curcumin & Turmeric are not only potent anti-inflammatory compounds, however, are also powerful anti-oxidants. NO FILLERS / IMPURITIES
USA Sourced Raw Ingredients & USA Manufactured
————————————————————————————
This Combination of products accomplishes a Therapeutic Synergy of compounds extremely effective for Muskuloskeletal pain of Joint, Muscle, Ligament, Tendon, Nerve origin. Even though our trio of products — Curcu-Meric 975mg®, Elder-Mmune 975mg®, Gluco-Mmune 975mg® (TRIO BUNDLE) accomplishes this goal extremely well; we like to offer different options, as every individual responds differently, and also has different preferences.
ORDER CONTAINS:
—–  1 bottle 200 ct capsules—-Curcu-Meric 975mg® –  — ROOT Cause Supplements™
      95% Curcuminoids, Organic Turmeric, Quercetin, Vitamin C, Zinc, Vitamin D3,  Resveratrol 98%, Bromelain, Organic Ginger, Black Pepper (Piperine)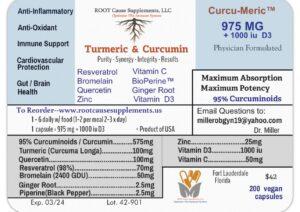 AND
——  1 bottle 120 ct capsules —- ArthroMax® with Theaflavins & AprèsFlex® — Life Extension™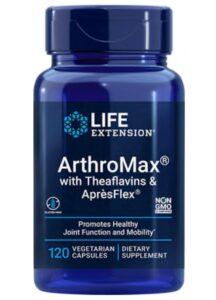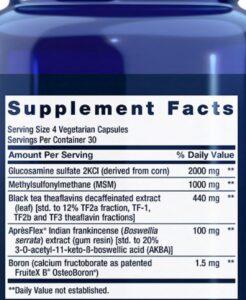 ArthroMax® with Theaflavins & AprèsFlex®– see below chart for ingredients in this capsule
Amount Per Serving

Glucosamine sulfate 2KCI (derived from corn)
2000 mg
Methylsulfonylmethane (MSM)
1000 mg
Black tea theaflavins decaffeinated extract (leaf) [standardized to 12% TF2a fraction (52.8 mg), along with TF-1, TF2b and TF3 theaflavin fractions]
440 mg
AprèsFlex® Indian frankincense (Boswellia serrata) extract (gum resin) [std. to 20% 3-O-acetyl-11-keto-ß-boswellic acid (AKBA) (20 mg)]
100 mg
Boron (calcium fructoborate as patented FruiteX B® OsteoBoron®)
1.5 mg
Other ingredients: vegetable cellulose (capsule), microcrystalline cellulose, vegetable stearate, silica.
AprèsFlex® is a registered trademark of PLT Health Solutions-Laila Nutraceuticals LLC.
FruiteX B® and OsteoBoron® are registered trademarks of VDF FutureCeuticals, Inc. U.S. Patent No. 5,962,049.
 ————————————————————————————–
Dosing Recommendations:
2 Curcu-Meric 975mg® in AM  & 1 ArthroMax® with Theaflavins & AprèsFlex® in AM with Meal or snack
2 Curcu-Meric 975mg® in PM  & 1 ArthroMax® with Theaflavins & AprèsFlex® in PM with Meal or snack