Description
Includes:
1- 200 count bottle – Curcu-Meric 975mg® Capsule
         95% Curcuminoids, Organic Turmeric, Quercetin, Vitamin C, Zinc, Vitamin D3, Resveratrol 98%, Bromelain, Organic Ginger, Black Pepper (Piperine)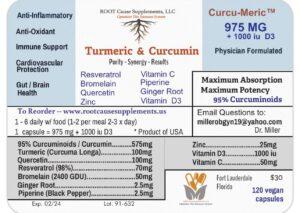 1 – 200 count Bottle – Elder-Mmune 975 mg® Capsule
Organic Elderberry,  Organic Pomegranate, Organic Grapeseed, Echinacea, Vitamin D3 & K2, Zinc Gluconate, Organic Ginger, Cinnamon, Vitamin C, Cacao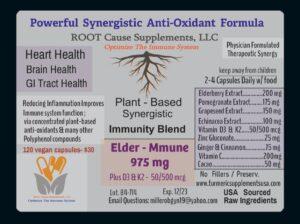 ————————————————————————–
Recommended Dosing:  (50 day Supply)- Higher Dose Regimen
2 Curcu-Meric 975mg® Capsule   &  2 Elder-Mmune® 975 mg Capsule in AM with meal or snack
AND
2 Curcu-Meric 975mg® Capsule   &  2 Elder-Mmune® 975 mg Capsule in PM with meal or snack
———————————————————————————————
Our Proprietary Synergistic Turmeric / Curcumin Formula – Curcu-Meric 975 mg® is the first capsule we recommend for decreasing whole-body inflammation. 2 to begin- 1 Am with food and 1 PM with food. If you are dealing with significant inflammation, then increase to 1 AM with food and 2 PM with food for 1 week then to 2AM & 2 PM.
Email us with any questions- millerobgyn19@yahoo.com– as many different dosages are recommended, depending on your Age, BMI & Medical Conditions.
Adding  Elder-Mmune 975 , consisting of a complimentary subset of plant-based anti-oxidants & anti-inflammatory compounds, increases the therapeutic synergy with Curcu-Meric 975mg.
——————————————————————
Curcumin / Turmeric Capsules are essential for Everyday Whole Body Wellness, not only for symptomatic inflammation one feels in their joints, muscles & tissues; however, inflammation occuring on the inner walls of our arterial and venous blood vessel systems leads to cardiovascular disease. Cardiovascular disease implies not only the heart, however vessels supplying blood to all our organs including our brain. Thus, Inflammation that we don't feel symptomatically (Oxidative Stress) is important to keep supressed on a daily basis. Whether the inflammmation is symptomatic or asymptomatic it remains crucial to keep it suppressed consistently on a daily basis, and the healthiest compound to use is Turmeric & Curcumin (The Bio-Active ingregient in Turmeric Root). Every Organ, Tissue, Cell is bombarded by inflammation (oxidative stress on a daily basis)