Description
Female Hormone Support & Comprehensive Health Bundle – 2 month supply regimen– see below for directions
Why do we like to bundle our products together? At ROOT Cause Supplements we take pride in the purity and therapeutic value of each of our uniquely formulated capsules. However, there are only so many compounds and milligrams which can be placed into one capsule. It's important to take enough quantity, and a variety of plant based supplements daily, without fillers-preservatives-impurities, to achieve desired short and long term goals. When it comes to hormone balance, involving many systems and organs; endocrine, adrenals etc, one needs an abundance of plant based synergy to have positive effects. Regulating Hormones and the Endocrine / Reproductive systems is not only about acute symptomatic relief of symptoms, however, to lessen the current stress on your systems, to optimize future performance, and lessen future decompensation.
4 Bottles- 120 capsules per bottle- Ingredients below—— A. B. C. D. 
A.  120 Count- Curcu-Meric 975® MG Capsule – Organic Turmeric  –  95% Curcumin  –  Resveratrol  –  Quercetin  –  Bromelain  –  Organic Ginger  –  Black Pepper                                                                                              Vitamin C (Acerola Cherry / Ascorbic Acid) – Vitamin D3 – Zinc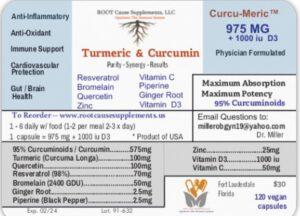 B.  120 Count- Female Hormone Support & Regulator 975® mg Capsule– NEW
Organic Ashwagandha, Organic Maca Root,  Organic Matcha Leaf,  Chasteberry,  Pumpkin Seed Extract,  Black Cohosh,  L-Tyrosine,  Valerian Root,  Yam Extract,  DIM,
DHEA,  L-Theanine
St. Johns Wort,  Red Raspberry Leaf,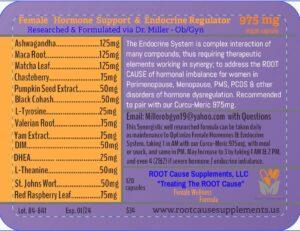 C.  120 Count- Elder-Mmune 975 MG® –  Organic Elderberry – Organic Pomegranate – Organic Grapeseed – Echinacea – Vitamin D3 & K2 – Ginger – Cinnamon –                                                                                                Vitamin C – Cacao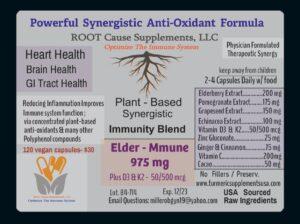 D.  120 Count- Gluco-Mmune 975 MG® –  Organic Moringa – Organic Beet – Spirulina – Organic Fenugreek – Vitamin D3 & K2 – Bitter Melon – Ceylon Cinnamon –                                                                        Clove  – Garlic – Organic Kale – B6 & B12 – Zinc gluconate – Berberine – Chromium – Vitamin C – Vitamin D3 – Zinc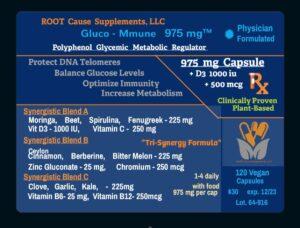 ———————————————————————————————–
Recommended Dosing:
Take 1 of each in the morning with food & 1 of each in the afternoon with food ( Total 8 capsules per day- 2 of each daily)
———————————————————————————–
Comprehensive Women's Daily Regemin -Clinically Proven Results: Lower whole-body inflammation, balance endocrine system, Improve significantly Hair-Skin-Nails, provide plant-based vitamins and minerals, accelerate metabolism, improve memory & mood, lessen affects of hormone fluctuation.