Description
Purity  —  Synergy  — Integrity  —  Results
ROOT Cause Supplements, LLC – Fort Lauderdale, FL  –  USA Sourced Pure Ingredients / Organic Plant-Based Compounds / Manufactured in Florida / No Fillers
Included: 2 month supply if taking recommended dosing below
120 Count  –   Curcu-Meric 975 MG Capsule —- ROOT Cause Supplements©
                                                                    Organic Turmeric  – 95% Curcumin  –  Resveratrol  –  Quercetin  –  Bromelain  –  Ginger  –  Black Pepper  – 
                                                                            Vitamin C  (Ascorbic Acid / Acerola Cherry 50/50) – Vitamin D3 – Zinc Gluconate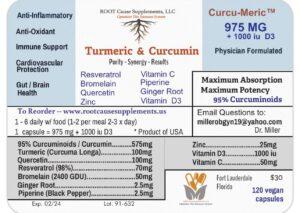 120 Count  –   Female Hormone Support & Regulator 975 mg Capsule —-  ROOT Cause Supplements©
      Ashwagandha,  Maca Root,  Matcha Leaf,  Chasteberry,  Pumpkin Seed Extract,  Black Cohosh,  L-Tyrosine,  Valerian Root,  Yam Extract,  DIM,
DHEA,  L-Theanine
St. Johns Wort,  Red Raspberry Leaf,  Lycopene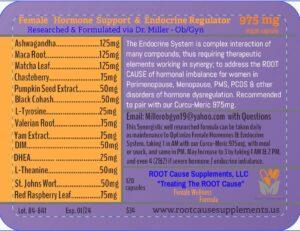 These 2 Capsules are extremely effective to combat Symptoms of Menopause, Perimenopause, PMS & PCOS. They also function very well to prevent disease onset, and suppress chronic inflammation, thus optimizing the Immune System.
Recommended Dosing- Take 1 of each in AM with food & 1 of each in PM with Food
For Individuals wishing to achieve more agressive goals, and / or more significant symptoms (i.e. Fatigue, Insomnia, Lack of Concentration, Brain Fog, Night Sweats) you may want to consider bundle 002 with higher quantities and dosing recommendations. Bundle 002 provides 2x the amount of capsules essentially, at a discounted price.