Description
Purity – Synergy – Integrity – Results  —  ROOT Cause Supplements© —  Lower Inflammation & Optimize The Immune System
Curcu-Meric 975 mg Capsule™- Turmeric / Curcumin  – Vegan Capsule
Most Therapeutic Curcumin / Organic Turmeric Capsule in the USA, based on clinical results and objective testing. Pure, High-Grade, Synergistic Formula with superior Absorption, Bioavailability and Anti-Oxidant benefits, with the addition of Quercetin, Resveratrol, Bromelain, Organic Ginger, Vitamin D3, Zinc, Pulverized Pipperine (Black Pepper Fruit) & Vitamin C (Acerola Cherry). Keeping in mind, the main components of the capsule, Curcumin & Turmeric are not only potent anti-inflammatory compounds, however, are also powerful anti-oxidants. NO FILLERS / IMPURITIES
---
USA Sourced Raw Ingredients & USA Manufactured – All Plant-Based Ingredients in our capsules are Organic (Turmeric & Ginger, are organic in this capsule). It is impossible to obtain other ingredients organically, however, we obtain all High-Grade Ingredients.
High-Grade translates into ROOT Cause Supplements, LLC being a smaller lab purchasing our ingredients in 2-5 lb bags, as opposed to larger labs that purchase large barrels / drums of ingredients containing more impurities and inactive ingredients, fillers, preservatives and anti-caking agents.
Our Ingredients and raw materials contain no such fillers, preservatives, impurities, inactive ingredients and ant-caking agents.
---
Synergy is extremely important with respect to absorption and bioavailability of the ingredients. Our original formula included the ingredients listed on the left side of the label image below. Then we added Vitamin C, Vitamin D3 & Zinc, which proved to be a Therapeutic Formula, for not only lowering whole-body inflammation, however, optimizing the immune system. Optimizing the Immune System is not only about certain ingredients, however, the two go hand in hand, as when you lower your whole-body inflammation, your Immune System is no longer being overwhelmed with this "Nonsense Inflammation" and can utilize it's resources to perform it's necessary function.
---
As of February 2023, this formula will be listed as Formula Version.1, and we will start producing several other versions of our Curcu-Meric 975mg Capsule. When looking at the label you will see the base formula on the left side, and the right side will have different ingredients. This Formula Version.1, as you can see from the label contains also: Zinc, Vitamin D3 & Vitamin C.
Formula Version.2 which is now available contains the base formula formulated in 2016, as seen on the left side of the sticker, and the ingredients on the right side are replaced with ceylon cinnamon & fenugreek.
---
Several reasons exist for our decision to create other versions of oiur Curcu-Meric 975mg Capsule: 1- Curcu-Meric 975mg capsule remains our flagship capsule, and with Curcumin / Turmeric being high on the list of healthy supplements to ingest daily, we would like to offer our customers options they can cycle through, obtaining slightly different benefits from the several different ingredients in the new versions. 2- In our ongoing research it has become apparent that cinnamon and fenugreek also increase the absorption and bioavailability of Curcumin & Turmeric. 3- The unique intrinsic anti-inflammatory and anti-oxidant properties of Cinnamon and Fenugreek as referred to in (1). 4- A percentage of our clients take their own regimens of Vitamin C, Vitamin D3 & Zinc, and would prefer the capsule withoout those ingredients, especially for our customers / clients taking 4-6 Curcu-Meric 975mg capsules per day to treat manage their disorder, and/or prevent disease.
---
Curcu-Meric 975 mg Capsule™- Turmeric / Curcumin – 200 count – Vegan Capsule
INCLUDED:
2 bottles —   200 count per bottle of Curcu-Meric 975 mg™ Capsules:
95% Curcumin, Organic Turmeric, Quercetin, Resveratrol 98%, Bromelain, Organic Ginger, Pulverized Black Pepper Fruit (Piperine), Zinc, Vitamin C, Vitamin D3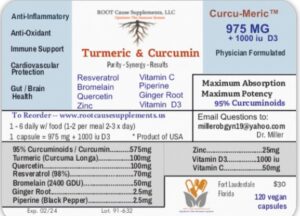 Synergistic Proprietary Therapeutic High-Dose Curcumin / Turmeric  – Curcu-Meric 975 mg Capsule™– Important to combine the other ingredients listed above with Turmeric and Curcumin for maximal absorption from your intestinal tract to your blood stream, and thus maximum bioavailability and utilization by your tissues once delivered via the blood stream.
This Item contains 200 capsules per bottle (2 bottles included in order) – Organic Turmeric, Pure 95% Curcumin- High Grade Compounds, No Fillers or Preservatives, USA Sourced Products
——————————————————————————————–
RECOMMENDED DOSING:
1-8 capsules daily (in divided doses), with meal or snack,  for maximum absorption
For example: Someone of lower BMI should start with 1 in AM and 1 in PM, if this person has inflammatory issues that are symptomatic, increasing to 2 in the PM would be beneficial after 1 week ( Thus 1 in AM and 2 in PM).  Someone of larger BMI, with Inflammatory issues that are symptomatic, may start with 3 per day, 1 in AM and 2 in PM, and after one week increase to 2 in the AM and 2 in the PM. For individuals with more severe disease such as Auto-Immune Disorders we recommend 3 in AM andf 3 in PM or 4 & 4. (Feel free to email: millerobgyn19@yahoo.com  or text 609-489-9425 – Dr. Miller with any questions)
——————————————————————————————
Curcumin / Turmeric Capsules are essential for Everyday Whole Body Wellness, not only for symptomatic inflammation one feels in their joints, muscles & tissues; however, inflammation occuring on the inner walls of our arterial and venous blood vessel systems leads to cardiovascular disease. Cardiovascular disease implies not only the heart, however vessels supplying blood to all our organs including our brain. Thus, Inflammation that we don't feel symptomatically (Oxidative Stress) is important to keep supressed on a daily basis. Whether the inflammmation is symptomatic or asymptomatic it remains crucial to keep it suppressed consistently on a daily basis, and the healthiest compound to use is Turmeric & Curcumin (The Bio-Active ingregient in Turmeric Root)
———————————————————————————————
This is our Flagship Universal Wellness High Potency Turmeric / Curcumin Capsule to Lower Whole-Body Inflammation- Maximal Anti-Inflammatory & Anti-Oxidant Therapeutic Results, and #1 Capsule for Cardiovascular disease prevention.
All-Natural without any fillers or preservatives,  vegetable cellulose (Vegan Capsule), with Organic Turmeric sourced from US Territories
The Synergy amongst the agents in proper Ratios: 95% Curcuminoids, Turmeric, Quercetin, Resveratrol 98%, Bromelain 2400 GDU, Ginger Extract & BioPerine (Black Pepper Extract), Zinc, Vitamin C, Vitamin D3 has delivered significant clinical results over the Past 7 years.
Extremely well tolerated by the GI tract, with maximum Absorption & Bioavailability due to the synergistic effect with the other compounds.
Auto-Immune Disorders— (Multiple Sclerosis (MS), Rheumatoid Arthritis (RA), Lupus, Thyroid Disorders (Graves & Hashimotos)————————————————– High Cholesterol, Arthritis (Osteoarthritis), Muscle Pain, Nerve Pain (Neuropathy), Glucose Control, Asthma, COPD, Psoriasis, Eczema, High Blood Pressure, Crohn's Disease, Macular Degeneration, Peripheral Artery Disease (PAD), Coronary Artery Disease (CAD) & Prevention, Dementia & Prevention. Also very therapeutic for people with chronic inflammation from Lyme Disease, as well as other chronic infections.
Third Party Tested- Certificate of Analysis (COA)
Email Dr. Miller with any Questions:  millerobgyn19@yahoo.com