Description
Purity – Synergy – Integrity – Results  —  ROOT Cause Supplements© —  Lower Inflammation & Optimize The Immune System
---
Arthro-Mmune 975mg – Newest Capsule Produced by ROOT Cause Supplements©
With our Curcu-Meric 975mg capsule being our flagship product, why do we continue to produce Plant-Based synergistic Capsules to compliment our Turmeric / Curcumin, Curcu-Meric 975mg capsule?
We like to use the example of Blood Pressure Medications. There are several categories of blood pressure medications such as Beta-Blockers, Ace-Inhibitors, Ace-Receptor Blockers, Calcium Channel Blockers, Diuretics and several more. Within each category there are several different types / names of medications. Each category of blood pressure medication exerts is effects via differing mechanisms, and within each category, each medication has slightly different mechanisms of action. However, despite many different mechanisms, they all have the same common effect of lowering blood pressure, via differing mechanisms. The benefit to lower blood pressure via combining several meds is the same premise as lowering Inflammation / Oxidative Stress via different mechanisms utilizing different compounds.
Plant-Based Compounds have proven the most effective and safest method to reduce Whole-Body Inflammation, utilizing different agents, maximizing the numerous mechanisms to lower inflammation in the body, lowering side effects from using too much of any one agent over time, and Optimizing the Immune System.
The last statement of Optimizing the Immune System is the reason why we adopted the term Mmune as a portion of the name on our different capsules. Our Immune System is constantly reacting to what our body is exposed to, whether that be a virus or bacteria, pollen and allergens, environmental toxins, foods and food toxins / chemicals etc..  When we ingest healthy plant-based agents to lower our "daily routine nonsense" Inflammation that our Immune Systems Reacts to on a daily basis, we allow our Immune System to keep a healthy Reserve for times when it truly needs to fight off a harmful pathogen. Science over the past decade has also emerged and extended to the clinical spectrum in healthcare utilizing our immune system to combat cancer, and stop the progress of Auto-Immune Disorders.
Despite each of our capsules having a different name, and different characteristics, they all work together to lower inflammation, optimize the immune system, reduce musculo-skeletal joint pain, and improve internal well-being in our cardiovascular system and other body systems.
---
This Combination of 2 capsules in this order is very effective for ALL described, however, specifically Musculo-Skeletal Joint Pain & Neuropathy (at higher doses, taking 2 of each pill in morning hours & 2 of each pill in evening hours with food).
INCLUDED:
1  —   200 count bottle  Curcu-Meric 975 mg™formula version.001  Capsules: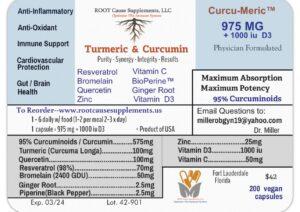 95% Curcumin, Organic Turmeric, Quercetin,  Resveratrol 98%, Bromelain, Organic Ginger, Black Pepper (Piperine), Zinc, Vitamin C (50% Acerola Cherry / 50% Ascorbic Acid), Vitamin D3
1 —   120 count bottle  Arthro-Mmune 975mg™ Capsules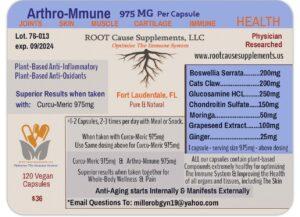 Boswellia Serrata,  Cats Claw,  Glucosamine, Chondroitin Sulfate, Organic Moringa, Organic Grapeseed Extract, Organic Ginger
---
Recommended Dosing: 2 month supply
2 Curcu-Meric 975 mg™ Capsules & 1 Arthro-Mmune 975mg™ Capsule in AM hours with meal or snack
&
2 Curcu-Meric 975 mg™ Capsules & 1 Arthro-Mmune 975mg™ Capsule in PM hours with meal or snack
---
Purity – Synergy – Integrity – Results  —  ROOT Cause Supplements© —  Lower Inflammation & Optimize The Immune System
Curcu-Meric 975 mg Capsule™ formula version.001 – Turmeric / Curcumin  – Vegan Capsule
Most Therapeutic Curcumin / Organic Turmeric Capsule in the USA, based on clinical results and objective testing. Pure, High-Grade, Synergistic Formula with superior Absorption, Bioavailability and Anti-Oxidant benefits, with the addition of Quercetin, Resveratrol, Bromelain, Organic Ginger, Vitamin D3, Zinc, Pulverized Pipperine (Black Pepper Fruit) & Vitamin C (Acerola Cherry). Keeping in mind, the main components of the capsule, Curcumin & Turmeric are not only potent anti-inflammatory compounds, however, are also powerful anti-oxidants. NO FILLERS / IMPURITIES
---
USA Sourced Raw Ingredients & USA Manufactured – All Plant-Based Ingredients in our capsules are Organic (Turmeric & Ginger, are organic in this capsule). It is impossible to obtain other ingredients organically, however, we obtain all High-Grade Ingredients.
High-Grade translates into ROOT Cause Supplements, LLC being a smaller lab purchasing our ingredients in 2-5 lb bags, as opposed to larger labs that purchase large barrels / drums of ingredients containing more impurities and inactive ingredients, fillers, preservatives and anti-caking agents.
Our Ingredients and raw materials contain no such fillers, preservatives, impurities, inactive ingredients and ant-caking agents.
---
Synergy is extremely important with respect to absorption and bioavailability of the ingredients. Our original formula included the ingredients listed on the left side of the label image below. Then we added Vitamin C, Vitamin D3 & Zinc, which proved to be a Therapeutic Formula, for not only lowering whole-body inflammation, however, optimizing the immune system. Optimizing the Immune System is not only about certain ingredients, however, the two go hand in hand, as when you lower your whole-body inflammation, your Immune System is no longer being overwhelmed with this "Nonsense Inflammation" and can utilize it's resources to perform it's necessary function.
---
As of February 2023, this formula will be listed as Formula Version.001, and we will start producing several other versions of our Curcu-Meric 975mg Capsule. When looking at the label you will see the base formula on the left side, and the right side will have different ingredients. This Formula Version.1, as you can see from the label contains also: Zinc, Vitamin D3 & Vitamin C.
Formula Version.002 which is now available contains the base formula formulated in 2016, as seen on the left side of the sticker, and the ingredients on the right side are replaced with ceylon cinnamon & fenugreek.
---
Several reasons exist for our decision to create other versions of oiur Curcu-Meric 975mg Capsule: 1- Curcu-Meric 975mg capsule remains our flagship capsule, and with Curcumin / Turmeric being high on the list of healthy supplements to ingest daily, we would like to offer our customers options they can cycle through, obtaining slightly different benefits from the several different ingredients in the new versions. 2- In our ongoing research it has become apparent that cinnamon and fenugreek also increase the absorption and bioavailability of Curcumin & Turmeric. 3- The unique intrinsic anti-inflammatory and anti-oxidant properties of Cinnamon and Fenugreek as referred to in (1). 4- A percentage of our clients take their own regimens of Vitamin C, Vitamin D3 & Zinc, and would prefer the capsule withoout those ingredients, especially for our customers / clients taking 4-6 Curcu-Meric 975mg capsules per day to treat manage their disorder, and/or prevent disease.