Description
Berry-Mmune 975mg™ is One of our 3 CORE capsules to lower Whole-Body Inflammation with our Curcu-Meric 975mg  being the primary Capsule, and the third being Gluco-Mmune 975mg
Therapeutic concentrated Berry Formula with added Vitamins and Minerals
——————————————————–
Order Includes:
1 – 120 count Bottle -Berry-Mmune 975 mg Capsules
Ingredients: Organic Elderberry, Organic Goji Berry, Organic Pomegranate, Organic Grapeseed, Echinacea, Vitamin D3 & K2, Zinc Gluconate, Organic Ginger, Ceylon Cinnamon, Vitamin C, Cacao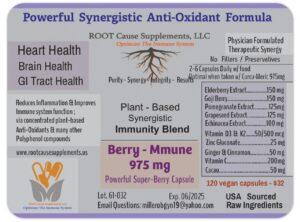 Recommended Dosing:
1-2 Capsules AM with meal or snack  &  1-2 Capsules PM with meal or snack
————————————————————
Our goal is to provide plant-based compounds in synergy with vitamins and minerals for maximal anti-inflammatory, anti-oxidant and immune boosting health benefits. This is accomplished via our three CORE Capsules, starting with our Turmeric / Curcumin Capsule – Curcu-Meric 975mg, then proceeding to our Berry-Mmune 975mg Capsule, and our Gluco-Mmune 975mg capsule. All Capsules have a unique blend of PURE Compounds working together for maximal reduction of Oxidative Stress and Whole-Body Inflammation.
Optimally we recommend taking 1 Curcu-Meric 975 mg + 1 Gluco-Mmune 975 mg + 1 Elder-Mmune 975 mg in AM with food & Same in PM with food.— SEE BUNDLE
Every individual has different health goals, and medical conditions: feel free to email us at: [email protected] with questions